The other day, I met with fitness expert and reflexologist, Rebekah Van Natta for a fun interview on her new podcast. I've known her for a few years now, and she's great.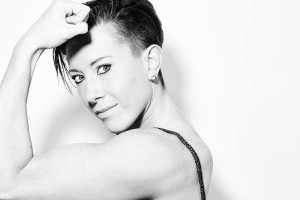 Rebekah just started a new podcast and I'm very flattered that she chose me as her first interview. We sat down in my office along with her side chick, er…sidekick, Andy Martinez Jr. and had a lot of fun talking about health and fitness and acupuncture (and books).
Please give the interview a listen. If you like it, we'd both love it if you'd share it with other folks.
Here's a link to the podcast: Click here to listen.
Rebekah is an amazing lady; as I mentioned above, she's a fitness expert, personal trainer, athlete, and fitness competitor. She's also a reflexologist and a musician. Rebekah is even an author, having recently published a book. Here's a link to her motivational ebook: "5 Steps to Motivation: 5 Weeks to a Healthier You"
Check out one of Rebekah's crazy workouts:
A few years ago, Rebekah also featured in a little commercial-style video I did for my practice. Check it out:
Here's a bunch of links to Rebekah's presence on the world wide web:
In Caritas,
Jorga Houy, L.Ac.